Our annual Hatteras camping trip was this weekend. We played our usual round of "car tetris" to fit everything but the kitchen sink in the trunk of the camry for our 1 night adventure.
After discovering that our usual spot in Frisco was at capacity, we set up camp in Buxton just beneath the lighthouse. The Tates joined us this year. We planned our usual campfire on the beach, but it was a little less "fire" than normal.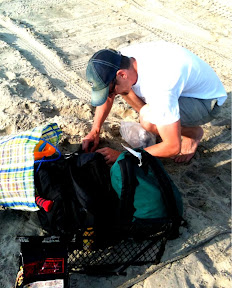 Eric tried using the bags as a wind break but it looked like he was trying to set them on fire. Meanwhile, all the kids had a blast playing in "the pond."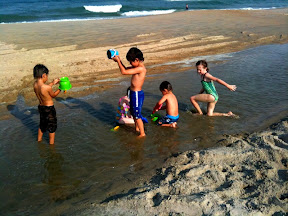 The hotdogs turned out great over the coals. The marshmallows needed a bit more help. It's just not the same without some legitimate flames!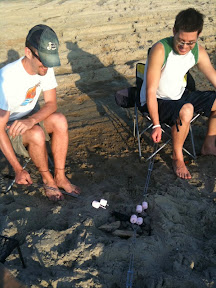 The kids thought it would be fun to bait the seagulls. I had fun laughing when Eric got pooped on.
It took some creativity and scavenging for reeds and firewood, but we finally made some s'mores. Annette got strawberry marshmallows -- yum!
Day two started REALLY early with an awesome breakfast. Pancakes, scrambled eggs and slow-cooked bacon.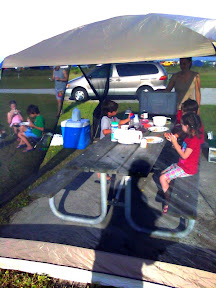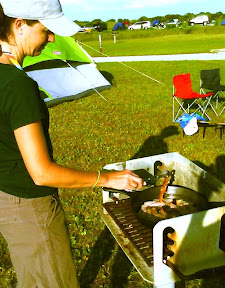 The remainder of our trip was spent Oceanside enjoying the sun & surf.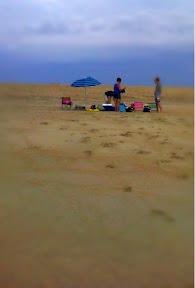 Old man Odell slept every minute the kids weren't feeding him or forcing him to walk through the campground.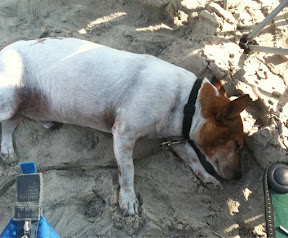 The Tates stayed an extra night. Ashton cried because she wouldn't get to see them until the next Sunday.
We made our obligatory ice cream stop on the way home.
As soon as the ice cream was gone, so were the kiddos. Eric and I had unpacked, showered and washed the dog before we finally woke them up to come inside!
Everyone's attitude was great. The weather was amazing and time with friends was a welcome addition to the trip. I think this was our best year yet!