So, Jen had a great idea for my mom's Mother's Day gift -- a whole family sleepover. The only problem was we couldn't do it on Mother's Day, so we postponed it until the day before Memorial Day. It was awesome!
Chan and Charles played the role of the "shirtless chefs" and cooked up some mean scallops and ribs.
Meanwhile, the girls played Barbies on the porch. After our bellies were about to bust we all got in our pj's and settled in for a movie marathon.
The kids hunkered down in Chan and Jen's room while the adults piled into the living room like a bunch of kids!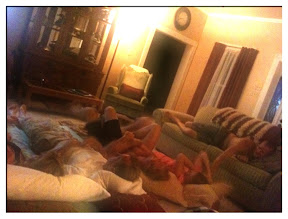 We had an awesome breakfast on Monday that was cut a little short by a call from grandad that he was stuck at the pond. The boys an Ash went to pull him out and got rid of a nuisance groundhog on the way home.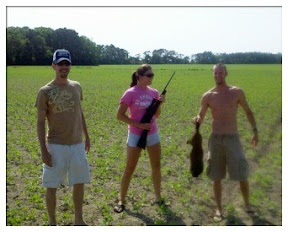 The rest of the day was spent poolside at Mama's. Check out Eric's awesome cannonball form...
Chan and Chuckles got stuck in the inner-tube. Not sure how this started, but it made for a pretty hilarious photo op!
The girls swam until they were prunes & played like champs all day.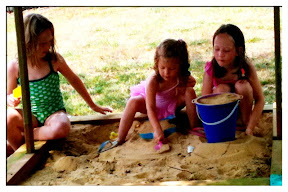 When we got home, Cayden donned her favorite rubber gloves, created this superhero costume, & challenged everyone to a boxing match/pillow/glove fight.
I love my family & friends! From camping to relaxing to cooking out & slumber parties, it has been one fabulous extended weekend.